Designers
Aldo Cibic
Aldo Cibic was born at Schio in the province of Vicenza in 1955. At an early age he started to take a self-taught interest in the world of design.

In 1977 he moved to Milan, where he began to collaborate with Ettore Sottsass. Aged twenty-five, he became a partner in Sottsass Associati and in 1981 he was a founding member of Memphis, an artists' collective created with the aim of "combating the conformism and mediocrity of the everyday". The collective was to mark an epoch-making transition in the universe of industrial design and architecture.

By vocation an innovator and far removed from labels of genre and stylistic excesses, Cibic immediately adopted "experimentation as praxis", and in the late 1980s embarked on his own personal career by founding the Studio Cibic. In his work the artistic dimension and craft practice converge. Rather than an end in itself, designing becomes a vital practical resource capable of forging links and narrating the human value of places and objects.

Anticipating the contemporary figure of the entrepreneur-designer, in 1991 he launched "Standard", his first self-produced collection: furnishings and objects that were "normal, with brio" took design closer to the requirements of domestic living and celebrated the everyday pleasures of dwelling.

At the same time he became a teacher at the Domus Academy and set up research activities with schools. Combining design practice and research enabled him to explore and go beyond the limits of traditional projects and so launch the idea of a "design of services" that supersedes the utilitarian aesthetics of function to embrace a socially inclusive, living approach based on the dynamic relationship between people and space.
Begun in 1995 with "The Solid Side" – devoted to the creation of humanly constructive and not only physically constructed shared hybrid spaces – this approach was further pursued in "New Stories New Design" (2002), which set out to investigate new design modalities and invent contemporary narratives capable of contextualising heterogeneous products and services.
He continued this vein in subsequent years with "Microrealities" (2004) and "Rethinking Happiness" (2010). Presented at the Venice Architecture Biennale, both projects propose an original mode of designing places in terms of social dynamics and are aimed at developing opportunities for meetings, exchanges and sharing that shape moments of community life.

In 1989 he founded the practice Cibic & Partners, which grew constantly over the years, extending the scope of its skills, relations and activities. Its focus was on international architectural projects as well as industrial and interior design. Cibic's drive to combine design and research then gave rise to the Cibicworkshop in 2010. Also a multidisciplinary research centre, this design and development studio has brought together a group of young architects and designers, coordinated by Aldo Cibic, Chuck Felton, Aria Behbehani and Tommaso Corà. Based in Milan, Cibicworkshop regularly collaborates with an international network of universities, research centres and business incubators, and elaborates alternative sustainable project types aimed at enhancing whole local areas and defining a new cultural, emotional and environmental awareness of public space.

Aldo Cibic teaches at the Politecnico di Milano, the IUAV, Venice, and the Domus Academy; he is an honorary professor at the Tongji University, Shanghai.
Maurizio Molini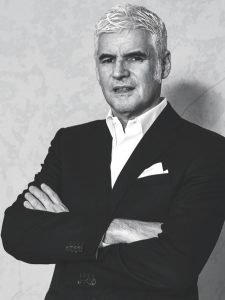 Maurizio Molini is leading Studio Molini, an architecture firm based in Vicenza, Italy that operates globally, designing buildings, exhibits, events, showrooms, and trade fair stands for various industries and companies, offering also positioning and brand identity consultancies.

Every Studio Molini project entails a point of interaction between architecture, art, and design, which creates an experience-an encounter between art and industry designed to rouse the senses and engage the mind at various levels of comprehension.

Architect Molini-whose explorations of art and culture via frequent travels throughout Asia, Africa, and the Americas-build upon his aesthetic foundation of Italian design. He has witnessed the transformation of urban environments in South Africa; contemplated the aesthetic of emptiness in Japan; and observed multiculturalism throughout Brazil and the United States, where Studio Molini has executed numerous projects over the last several years. Since 2011 Molini has been constantly operating also in Istanbul.

Molini received his degree from IUAV (University of Architecture in Venice, Italy).